One of the natural laws of the universe is that life is a constant movement. What goes in must come out, what goes up must come down, and what goes backward must move forward. Anything that sits too long becomes stifled and stagnant. Life can be symbolized by the turning wheel of fortune. Your fortune is changing, gaining and losing.
"What goes up must come down. Spinning wheel got to go round." These are the beginning lyrics to the song Spinning Wheel by Blood Sweat and Tears. In the late 60's and early 70's, I played trumpet in a rock band (many spins ago) and this was one of my favorite songs. At that time in my life, my thinking was based on the principle of – if this . . . then. If I (get the desired job, marry the perfect man, make X amount of money), then I will (be happy, be fulfilled, be successful). With that kind of thinking, I was always waiting for something. I am very good at creating and usually get what I want. But many times I found when I got it; it wasn't really what I wanted.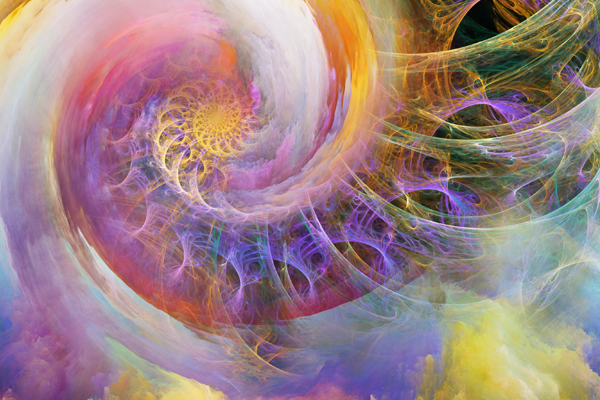 Reaching goals we never thought possible is very exciting. It can also be frustrating to realize that "nothing has changed". Sometimes it feels like we're just going round and round on the merry-go-round. "Ride a painted pony let the spinning wheel spin." One of the hardest questions to answer is – What do I really want?
Time is moving ~ the days, the seasons, the years ~ each moment is a transition to the next. Your life is always changing, rising and falling. As we get older, it feels like the wheel is spinning faster and faster. Through all the ups and downs, how do you stay balanced? How do you ride a painted pony and still find an inner peace and centeredness? 
The lesson of the wheel of fortune is to hold the center, to stand relaxed and centered at the hub. When you hold the center, you can't be thrown off. When you ride the wheel of fortune and stay centered at the hub, you move past your fears. It's the deep fears within that keep us stuck. You may not be in control of all the circumstances in your life, but the choice of how you react is always yours. The choice of how you feel is also yours. When you reside at center, you can relax and be at peace.
Your outside world is reflective of what's happening within you. Success does not come from the outside world to you; it comes from within you flowing out to the world. In times of accomplishment, remain balanced. In times of tragedy, remain balanced. As life keeps spinning round and round, hold the center. 
After many spins in life, I am now playing my trumpet again with the same band. With every new spin . . . a new Adventure begins!